We offer various universal design and accessibility products that ensure reliability and safety for healthcare and welfare facilities and educational institutions. Our products are safe and comfortable to use even for seniors and young children, durable to withstand disasters and long-term use, and adaptable to a wide range of needs and demands.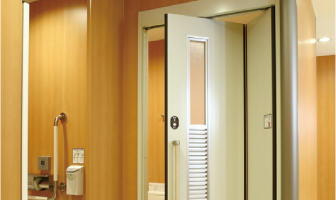 Lightweight Steel Freely-opening
Folding Door Hikuosu
A door with a universal design that creates a caring and comfortable environment, opening smoothly whether pushed or pulled. A space- saving design that is easy to use and ensures a user-friendly space with a wide doorway. This is a safety-focused product, equipped with finger- pinch protection rubber, etc.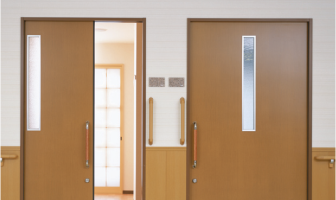 Sliding Door
with Automatic Closing DeviceCalm Slider
An automatically closing sliding door, ideal for hospitals, schools and nursing homes. The door opens quietly with little effort and closes slowly when released. With a flat floor afforded by the suspended door system, this barrier-free design does not hinder the passage of wheelchairs, carts or stretchers.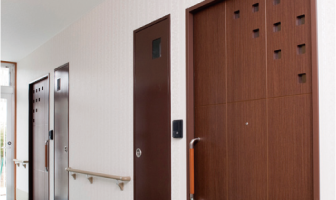 Entrance Sliding Door
for Elderly Residential HousingVariface / Variface Ai
Available in a variety of colors / patterns, this wood-grain texture entrance door can be easily matched with other interior materials. Easy to operate, this suspended door is popular with elder people. Variface Ai is officially certified specific fire proof equipment with earthquake resistance, sound insulation, airtightness.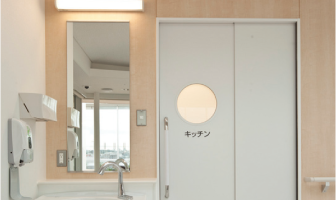 Wooden Sliding Door (Steel Frame)Wooden Double Sliding Door
with Closing Assistance
This double sliding door has 2 sections that operate together, offering a wider entrance in narrow spaces. Since it is a hanging type, the floor is flat. Wheelchair access is smooth and trouble-free. The door closes slowly even when pulled vigorously due to the closing assistance mechanism, providing excellent safety.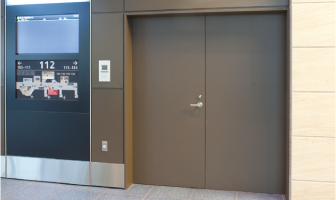 Steel DoorSD Series
An order-made door individually designed and manufactured according to the required size, material, design, etc. using steel plates of tl.6 or more for the frame and door itself. Isolates the inside/ outside environments, giving it watertightness, airtightness and thermal insulation performance equivalent to a wall.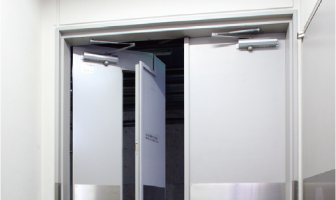 Steel Door with Opening AssistanceAir Balancer
This door can be operated with a force of 100 N or less even when a pressure difference occurs in a fire. Safely secures an evacuation route in an emergency. Can be introduced without sacrificing space, economy or design when installing fire dampers or other pressure regulation devices.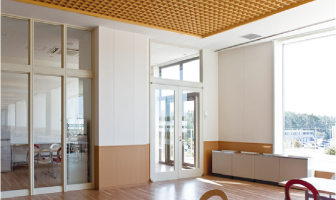 Specific Fire-Prevention Apparatus
with Heat Resistant GlassErifight
Super heat-resistant crystallized glass achieves clear visibility with no wire mesh and excellent fire proof performance, blending beautifully into the space. A disaster prevention design is now available, giving a different impression to conventional fire doors made from steel or with wire reinforced glass.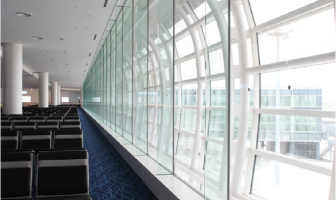 Hollow Stainless Steel Frame
for Glass FrontsReblade
Pursuing "hidden functional beauty." A revolutionary roll forming (patent/design registered) reduces weight by 40% in comparison to a conventional flat bar and greatly simplifies construction work. Supports large openings up to 6m height and unlimited width. 6mm visible parts on the floor, ceiling and walls.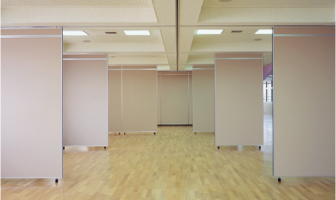 Movable PartitionSliding Wall
These movable walls enable the free and easy modification of space in hospitals, schools, offices , etc. In addition to functionality, these walls combine sound insulation, flame resistance, operability, safety and quality of design, supporting comfortable and easy space creation according to the circumstances.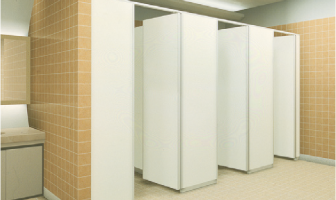 Toilet BoothPreclean
A toilet booth that pursues person-friendly convenience from the perspective of the user. With 8 kinds of surface material and 2 kinds of edge, a wide range of variations are available to accommodate diverse environments. This provides a comfortable and clean toilet space.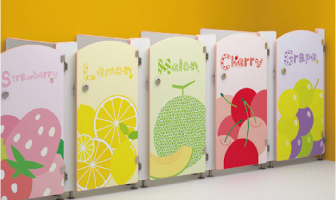 Child Toilet BoothPrekids
A low-partition toilet booth that takes into account the safety and privacy of the children while also enabling adults to watch over them. A variety of fun and bright original designs are available. The inside of the doors also have pictures and do not peel off. The doors are a safe design that prevents pinching fingers.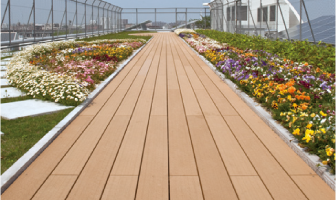 Wood-plastic recycled composites Tekumoku
A sustainable new building material that is a composite of recycled wood and plastic. Has high durability and strength (does not rot or suffer termite damage) while maintaining the warm texture of wood. Large-scale maintenance unnecessary because it does not suffer damage, making it economical.