We offer an extensive lineup of garage shutters, window shutters, doors, awnings, and other products that increase the security, operability, and quality of design. Our products add beauty to everyday life and make living more convenient and comfortable. "Reliability," "Safety," and "Comfort" are the key concepts that define our residential products. They support you in creating an excellent residence.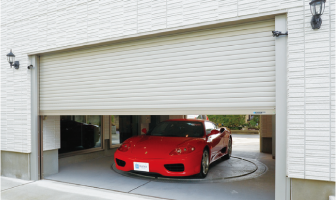 Wide Aluminum ShutterGozensama
A quiet shutter with greatly reduced operation and wind noise with aluminum roll slats filled with urethane foam. Operation speed 2x that of a conventional shutter. Easily take out the car in the early morning or late at night without bothering the neighbors. Decorates the garage with a sophisticated design and form.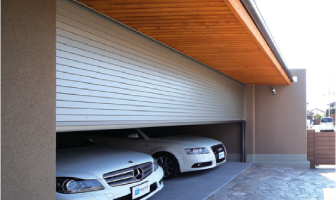 Flat Garage ShutterPortier
Flat, even form looks fresh and beautiful. 3 standard colors, 6 wood textures, and 1 stone texture are available for housing, creating a flat finish that complements the facade. A maximum frontage of 6.3m accommodates 2 vehicles. Designed with a focus on quick operation, quietness and safety. Fire proof door also available.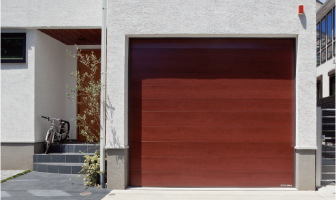 Residential Over Sliding DoorFlat Pit
A garage door with a reputation for a beautiful appearance and easy operation. With a flat, simple and beautiful face design exclusively for housing, this product is characterized by an operation speed 4x that of electric rolling shutter. Complete consideration for safety, including a dual obstacle sensing device.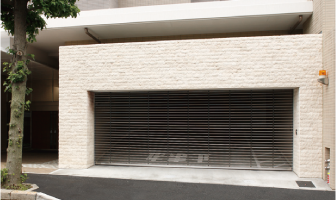 High Speed/Low vibration Grill ShutterDaiseikai
Our technology reduces the operation noise and vibration of the shutter of a parking lot as much as possible. With a fast full-open speed, this high durability design can withstand frequent operation of up to 30 times per hour. Also has full safety measures to prevent shutter accidents.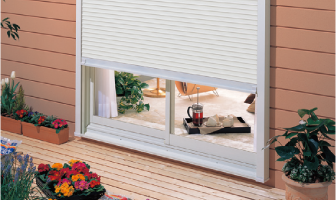 Residential Window ShutterMado Master Series
A decorative window shutter with excellent security and wind pressure resistance performance. Pre- installation type for new buildings and post- installation type for remodeling available. The diverse lineup includes a ventilation/lighting type that keeps privacy while allowing air and light in, fire proof types and wide types.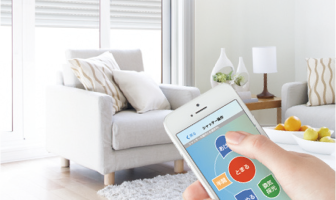 Residential Window ShutterMado Master Smart Type
New-type housing window shutter that can be controlled by downloading the dedicated app onto a smartphone and connecting to the Sele-Connect wireless central control system. The system supports daily life with convenient functions, including individual operation, simultaneous operation, group operation and multifunction timer.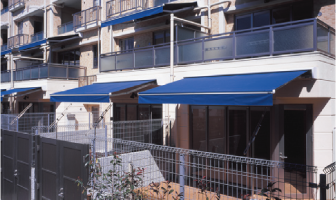 AwningElle-Banne
A retractable awning that controls sunlight according to the season and decorates the verandas of apartments, etc. Designed for toughness and the ability to withstand wind and rain, this awning keeps buildings beautiful with a range of sheet variations. It is an eco-friendly product that reduces air conditioning by blocking the sunlight.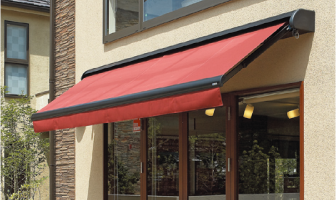 Home AwningrElle-Patio Plus
Dramatically reduces air conditioning in summer by blocking the sunlight outside the window. Also increases the effectiveness of heating in winter by retracting the awning to allow sunlight into the room. Creates a stylish expression perfectly suited to open-plan living rooms and gardening.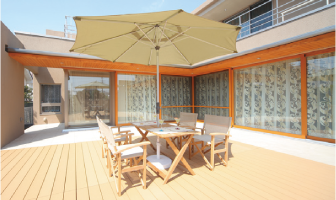 Recycled Wood /
Plastic Composite MaterialTekumoku
A sustainable new building material: a composite of recycled wood and plastic. Has high durability (does not rot or suffer termite damage) while maintaining the wann texture of wood. Free of damage and corrosion, Tekumoku requires no large-scale maintenance and is highly economical. Popular for use as exterior.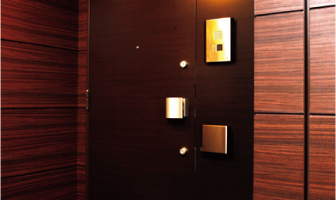 Lightweight Steel Entrance DoorMX Series/SX Series
Specific fire-prevention equipment for apartment entrances using eco-friendly non-PVC steel. Select your best combination of design and colors. A range of functional options include earthquake resistance / finger-pinch prevention frames, sound/heat insulation performance. Choose a selected model while keeping costs down.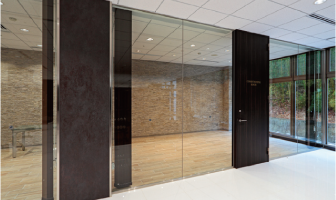 Hollow Stainless Steel Frame
for Glass FrontReblade
Pursuing "hidden functional beauty." A revolutionary roll forming (patent / design registered) reduces weight by 40% in comparison to a conventional flat bar and greatly simplifies construction work. Supports large openings up to 6m height and unlimited width. 6mm visible parts on the floor, ceiling and walls.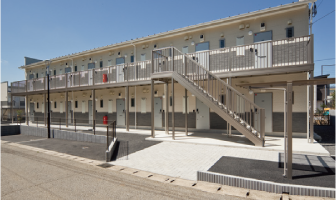 Outdoor Steel Stairway /
Corridor UnitDanjuro II
Standardization and unitization enabled factory production. High quality control at the factory realizes stable manufacturing unobtainable by conventional methods . Quick construction due to simple assembly and increased durability given by strong anti-corrosion . The simple design decorates all buildings with sophisticated beauty.