We offer high-function products that improve the work environment, save energy, and increase productivity by providing a high-speed, airtight entrance to factories, warehouses, and other production and distribution facilities that need to increase work efficiency and reduce operating costs. These products also enhance the comfort of offices adjoining factories and warehouses that use them.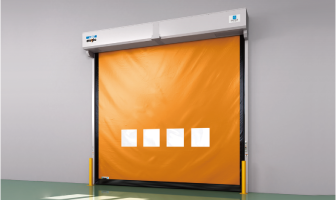 High Speed Sheet ShutterDaimajin Magic Plus
Our unique mechanism of joining the sheet and rail by zipper provides industry-leading airtightness. This coupled with high-speed operation enhances energy savings. The main body is made from polyester cloth and is pipeless. The sheet is designed to release from the rail on impact from a car etc., mitigating shock and restoring itself automatically. Can be used indoors and outdoors.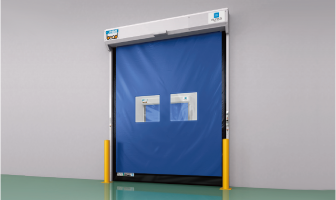 High Speed Sheet ShutterDaimajin Bead Plus
A high-speed sheet shutter for indoor use only. The sheet and rail are combined by our propriety bead mechanism, drastically improving airtightness, quietness and durability. Demonstrates energy savings with an airtight performance greater than the Daimajin Magic. Employs the same pipeless structure and self- restoration mechanism as the Magic.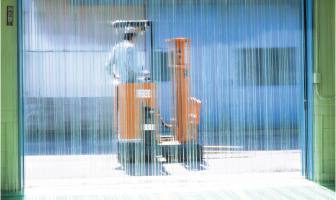 PVC CurtainAir Save
Prevents energy loss from the entrance by isolation from the outside air, maintaining the building temperature while people and vehicles freely pass. Its soundproof, dust-proof and insect-proof effect maintains the workplace amenity. A certified flameproof type is also available with easy and economical installation work.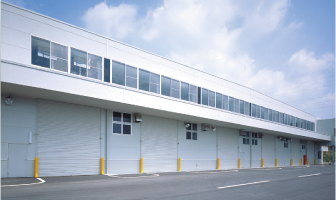 High Speed Shutter
Ideal for entrances to garages, factories and warehouses, which require fast operation. Demonstrates functionality in applications where air-conditioning and security management are necessary. High Speed Shutters that operate at 2x or 3x the standard speed of 3m/min, 4x, 5x, and 6x variable-speed shutters are available.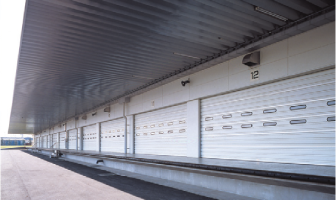 Over Sliding Door
Can be slid along the rail in the wall or ceiling and stored without folding the door panels. Can also be opened and closed smoothly and quickly even by hand. Various applications are supported by sizes to match different frontages and heights, combinations of storage and operation methods, and a range of panel materials.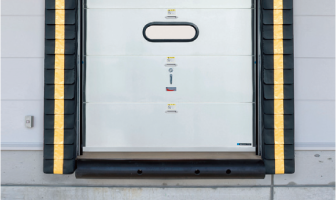 Insulating Over Sliding DoorFlat Chilled/Flat Cool/Basic
Pursues reliable temperature management with excellent insulation performance and structure. Levels of thermal transmit tance varies according to applications. Operation is designed to be easy, safe and reliable. The panel sutface material is dust-shedding,helping maintain logistics energy efficiency and cleanness.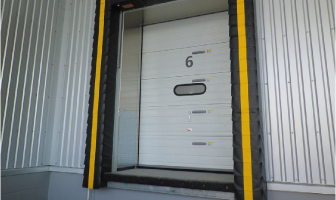 Dock ShelterBS Shelter
Prevents the flow of air in and out during loading and unloading of goods. With this mechanism, the transport vehicle and the dock door come into close contact, maintaining the temperature, and shutting out wind, rain and dust during repeated operations of the door. Preventing the flow of air reduces air conditioning costs.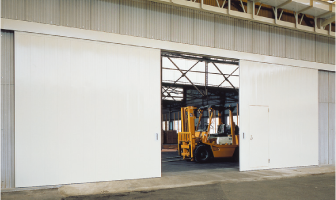 Steel Hanger DoorBS Hanger
Appropriate for tall and wide entrances. Offers light and smooth operation. Hot-dip zinc-coated steel sheets employed for high corrosion resistance and wind pressure resistance of 600Pa. Options include windows for lighting on door panels and dust-proof neoprene rubber in the gap between the building and the door.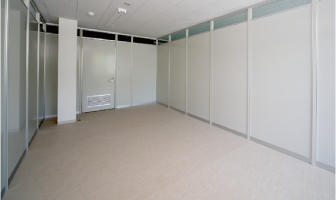 Aluminum Stud Movable PartitionPrefree EA-N50
An aluminum stud type movable partition indispensable for creating a beautiful and functional office space. On-site construction is simple and assembly/disassembly easy, making it adaptable to diverse office layouts.The finish is beautiful and robust, and wiring cables, switches, sockets, etc. can be incorporated into the studs.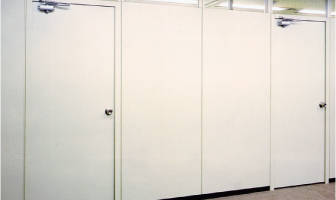 Steel PartitionPrewall ICS/ICN
The custom-made ICS and ready-made ICN have 2 panels either side of a stud core. This quickly facilitates a large wall with no protrusions. Reinforced with plasterboard, the panels have excellent flame resistance and sound insulation.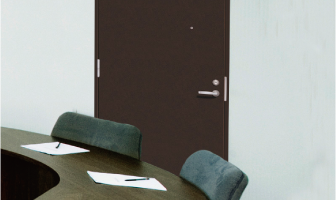 High Grade Sound Insulation DoorSDT-S35 Series
Our patented "harmonic oscillation construction method" reduces resonance. Gives the sense of an ordinary door rather than a pull / fix operation similar to a cremorne handle. Can be used in a wide range of applications including offices adjacent to factories, machine rooms, conference rooms, theaters and halls.