2023年09月01日
Acquisition of Shares of SPRINT ROLLER SHUTTERS PTY LTD
Bunka Shutter Co., Ltd. (Headquarters: Bunkyo-ku, Tokyo; President: Hiroyuki Ogura) announces that its wholly owned subsidiary, BX BUNKA AUSTRALIA PTY LTD (hereinafter referred to as "BX BUNKA AUSTRALIA"), has acquired all shares of SPRINT ROLLER SHUTTERS PTY LTD (hereinafter referred to as "SPRINT"), an Australian shutter manufacturer.
SPRINT is a shutter manufacturer and distributor of industrial and commercial facilities shutters in Victoria, southeastern Australia. BX BUNKA AUSTRALIA, on the other hand, is a manufacturer and distributor of residential garage doors with a leading market share in Australia and manufacturing facilities in Queensland, New South Wales, and Western Australia. In the industrial and commercial facilities shutter business, we have since entered this business by bringing ARCO (QLD) PTY LTD into our group in 2019, and we are strengthening and expanding the our industrial and commercial business by adding MAX DOOR SOLUTIONS PTY LTD into our group in 2022.
With the acquisition of SPRINT, we have gained a manufacturing base for industrial and commercial shutters in Victoria, one of the major regions in Australia. Bunka Shutter Group will strengthen its manufacturing base and expand its business, while further expanding its "overseas business," one of the focus business in the medium-term management plan.
1. Company profile of SPRINT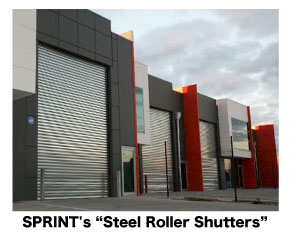 Location:Victoria, Melbourne, Australia
 Business Description:Manufacture and sale of shutters for industrial and commercial facilities in Australia

 Sales:AUD $20 million(Fiscal year ending June 31, 2023)

 Employees:24
2. Date of share transfer
 September 1st ,2023
3. Outlook for the current fiscal year of Bunka Shutter Group
 The impact of this transaction on Bunka Shutter Group's consolidated financial results for the fiscal year ending March 31, 2024 is expected to be immaterial.
(Reference) Bunka Shutter Group Overseas Business Sales
Net sales: 18.1billion yen (FY2022/3)